Whether you're trying woodworking for the first time or are an experienced woodworker, we've got everything you need!
Membership Benefits Include:
Access to Top Quality Equipment 7 Days a Week
Discount at Local Suppliers
Network of Woodworkers
15% off Workshop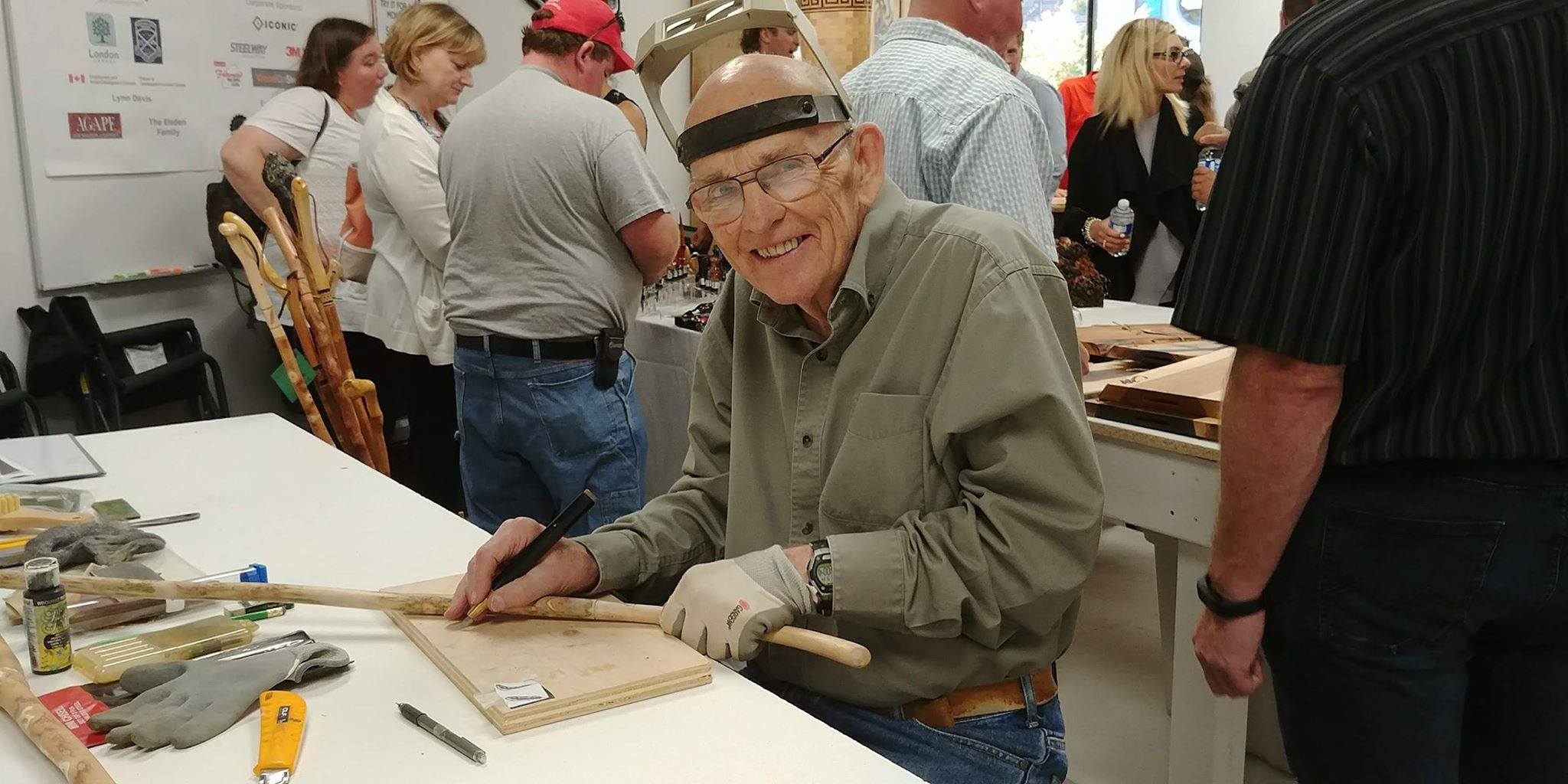 Frequently Asked Questions:
You can sign-up online or in shop. To register online, simply scroll down and choose the option that best suits you. Drop by the shop anytime we're open to register onsite .
2
Can I store project materials at the shop?
Absolutely! Small project materials are stored on shelving in the bay area, Each member is responsible for their own items, and is asked to label them clearly.
Larger projects can be stored for a limited time. Speak with Lori or Tyler, to arrange where and when projects will be stored.
3
How do I book my Shop Orientation & does my membership start from that date?
All members are required to complete a shop safety orientation before working in the shop. On the day of your orientation we'll activate your Membership. (Your membership will start from that date.)
To book your orientation, call into the shop and speak with the team (519-672-1280) or email info@londonwoodshop.ca
4
Can I buy supplies onsite?
Absolutely! We have a curated selection of locally sourced live edge slabs, perfect for tables, charcuterie boards and more.
We also have purchasing agreements with local sheet good suppliers. Goods can be delivered to the shop. To make arrangements please speak with Lori and Tyler.
Nails, screws, glues and sandpaper also available onsite.
We selected the most needed tools in larger sizes than you're likely to find in a home shop.

10" SawStop® Industrial Cabinet Saw
ICONIC CNC
18" Laguna Bandsaw
21" Scroll Saw
12" DeWalt Mitre Saw
20" Laguna Helical Planer
8" Helical Jointer
20"x 38" Lathe
6"x 108" Vertical Edge Belt Sander
6"x 48" Belt Sander & 12" Disc Sander
75" Track Saw
Incra Router Table System
Industrial Dust Collection System
Various Hand & Power Tools

See a tool not on the list that's needed for your next project? We're always adding to the list, so let us know!
6
What are your shop hours?
The shop is open 7 days a week with more than 60 hours of shop time available.

Weekly Shop Hours:

Monday 10am-6pm
Tuesday 10am-6pm
Wednesday 10am-6pm
Thursday 10am-6pm
Friday 10am-6pm
Saturday 10am-6pm
Sunday CLOSED


Note: We are closed on stat holidays & provide this information to members leading up to the day!

**** We are currently operating on different hours during Covid-19. The shop is closed Sunday and is open from 10am-6pm Monday through Saturday. ***
7
I don't have a lot of shop experience, can I become a member?
Yes! Participating in one of our workshops is a great way to get oriented to the shop, and learn basic shop safety and woodworking techniques, We encourage members to have taken an entry level woodworking course before joining the shop!
There are always people in the shop with experience who are able to answer questions, and assist!
8
How do I become a Student Member?
To be a Student Member you must be a current, full-time student. You will be asked to present your student photo ID at the time of your orientation.
9
Do I need to book a time to use the tools? How does it work?
There is no requirement to book a time on tools. Shop staff monitor to ensure that everyone is able to use equipment in a timely manner. The one exception is if you are working on a CNC project. If you have a large CNC project, you may need to book time.
10
What payment options do you accept?
We accept credit cards for membership and workshop purchases online. In the shop we accept debit and credit payments. Recurring payments for annual or ongoing memberships can be arranged through direct debit withdrawal, or via credit card. Speak with Lori or Jen in the shop!
11
What happens if I need to cancel my Annual Membership early?
If you become an Annual Member and cancel your membership before the end of your membership term, there is a $250 one-time cancellation fee.
12
Do you have parking onsite?
Yes, we do! Parking is always free for members while you're using the shop.
The Woodshop is also located on several
bus routes.
WHAT ARE MEMBERS SAYING?
Members are at the heart of what we do.

---
With starting a new business the shop space is set up with many tools that I would not be able to purchase right away. There is a great sense of Community here. You meet many people that you would not otherwise meet.

---
I am constantly impressed by the willingness of people to help each other. The Woodshop is such a welcoming place. I enjoy being there.

---
Great people and a great opportunity to access equipment and talent I would not be able to have any other way. Just signed up for a year!
Signing up to be a member is simple
Choose your Membership
Select the Membership option below that best suits you and follow the links to sign-up online. Or come into the shop to register in person. It's up to you!
Book your Orientation
Call or email to book your Orientation. Each member is required to complete an orientation before working in the shop.
Activate Your Membership
On the day of your orientation we'll activate your Membership. (Your membership will start from that date.)That's it!
Please be advised that all members and anyone attending our workshops are required to show proof of double vaccination for Covid-19 at least two weeks prior.