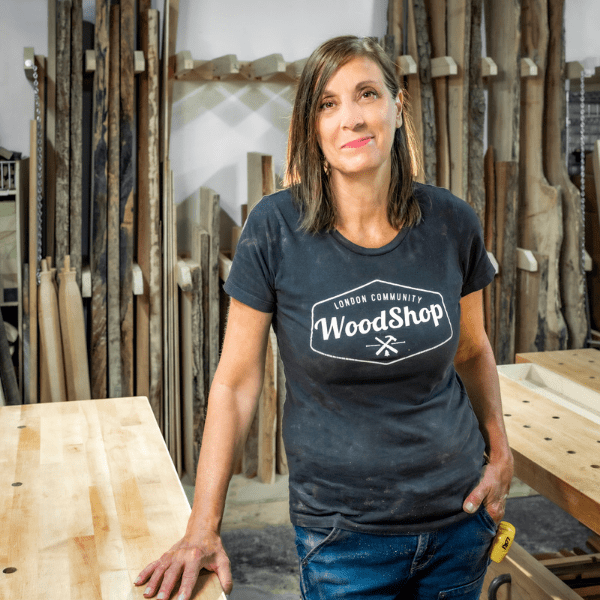 I don't remember the exact moment I became passionate about woodworking, but I was intrigued from a young age. Taking it up as a hobby when my children were small got me instantly hooked. I have also always been drawn to trees and the forest; a place I still go for relaxation, inspiration and to gain clarity..
While attending the Woodstock Woodshow I was introduced to the Conestoga College Woodworking Course. A tour of their facility made me realize I wanted to pursue this more than anything else.
After completing the 3 year Woodworking Technology Co-op Program at Conestoga College, I worked in the commercial millwork industry, taking on roles as estimator, project manager and operations manager, as well as teaching Woodworking part-time at Fanshawe College and Lee Valley.
Working at the London Community Woodshop is definitely my dream job and beyond my imagination at the beginning of my journey. It is a place where people love creating and sharing with one another and where magic happens every day! From the beginning, woodworking has made a positive difference in my life and I thoroughly enjoy helping others have a similar experience. I am grateful each day I come into the shop
My love of woodworking started in the early days of "do it yourself" television like This Old House & The New Yankee Woodshop. With my background in engineering and manufacturing, coupled with a basic need to build or create something, I started working with wood mostly by trial and error.
I restored an 1830's farmhouse and built 2 historically inspired homes in New England and also fell in love with old wooden boats.
Joining the woodshop in 2017, my love of woodworking moved to guitars. The woodshop had a CNC and I took on the challenge of learning to program it to make some of the intricate pieces for my first guitar. Since then I have made furniture for my home, charcuterie boards, and some custom orders for various clients.
Woodworking gives me a challenge, a creative outlet and tremendous satisfaction upon completion. Working here I have met many interesting people from all walks of life and also made some great friends who share the passion.
Jen loves trees and wood, and has always had a passion for woodworking even though she never had the means. When she heard the London Community Woodshop was opening, she raced down as soon as they were open to sign up and become a volunteer.
A self-designated "wood nerd" she enjoys the magic of all types of wood, the feel, the grain and the scent. Making things has always been what she's wanted to do, and wood is the perfect material for her to use.
She loves the community that has formed at the woodshop, and loves to share the knowledge she gained since starting her own woodworking projects.. Jen is always amazed by how much she has learned over the past four years, and also how much she can help all the members with her skills and problem-solving..
When you join the Woodshop you become a Member of the LCW Community.
From new woodworkers to retired shop teachers and cabinet makers, there is always someone with a new idea and a solution to your project challenge.
Visits around the workbench, coffee at the front desk, and sharing new ideas happens daily. This Community is one of the greatest assets to joining the Woodshop!
---