Volunteer @ the Shop
Join the Shop Team!
Are you a woodworker? Do you want to become one? Would you like to introduce others to the world of woodworking?

If you answered yes to any of these questions, you sound like a perfect fit for the Woodshop Volunteer Team!

The London Community Woodshop is a membership-based social enterprise. We welcome community members with all levels of woodworking experience and offer programming to many community groups. As a Community Woodshop, there's always something to do, and volunteers are an integral part of making it all happen.

Below you will find information on all of the volunteer roles & how to apply! We look forward to seeing you in the shop!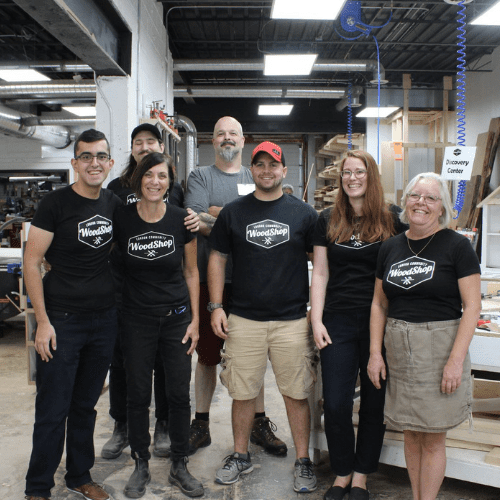 Volunteer Roles in the shop
You will assist members and monitor the shop to ensure that equipment is being used safely. As the point person in the shop you will respond to questions and issues as they arise.

Requirements:
• Woodworking Experience
• Availability to volunteer for two 4 hour shifts a month(8 ½ hours per month)
• Minimum 6 month commitment
• Willingness to attend training sessions

2
Woodshop Community Activator Team
Description:
You will welcome visitors and members to the shop, respond to telephone calls and visitor questions, and sign in members. You may also be asked to assist during special events.

Requirements:
• Availability to volunteer for a minimum of two 4 hours shifts per month (8.5 hours)
• Minimum 6 month committment
Description:
Do you have specialty experience with a specific project or woodworking technique?
You will facilitate workshops for groups in the community, from seniors to children. Workshops could include anything from making DIY bookshelves to a birdhouse for children

Requirements:
• Availability to volunteer a minimum of 5 hours per month
• Willingness to learn
• 6 month commitment
Description:
Do you enjoy making things, but don't have a project in the pipeline? Looking for a way to learn how to use a few new tools?
Join our community team and help to create kits for kids, projects for community spaces and more! From birdhouses to benches you will do it all! This is a great opportunity to get started in woodworking & give back to the community!

Requirements:
• Some woodworking experience or willingness to learn
• Must be a team player
• Availability to volunteer a minimum of 6 hours per month
• Minimum 6 month commitment (Woodshop team is open to reviewing this commitment time frame on a case by case basis)
Please fill out the form below and let us know how you would like to get involved. After we receive the completed form, a member of the team will follow-up to speak with you.