Woodworking 101
Over this 6-Week Course, Students will Learn the Basics of Woodworking:
• How to take rough lumber into a finished product
• Joinery methods such as dado and rabbit joints
• Get experience with both solid wood and panel goods

Each student will construct an apothecary shelf that they will take home at the end of the course.
This course is perfect for anyone looking to try woodworking and develop some of the basic skills that are essential to starting your own woodworking projects.
Course includes 6 sessions held on Saturday mornings from 9:00am - 11:00am.
Dates: October 14, October 21, October 28, November 4, November 11, November 18
Note: Unfortunately, we are unable to accommodate rescheduling for missed sessions. We encourage participants to ensure they are available for all course dates before registering.

Cost: $375.00+tax (Includes all materials)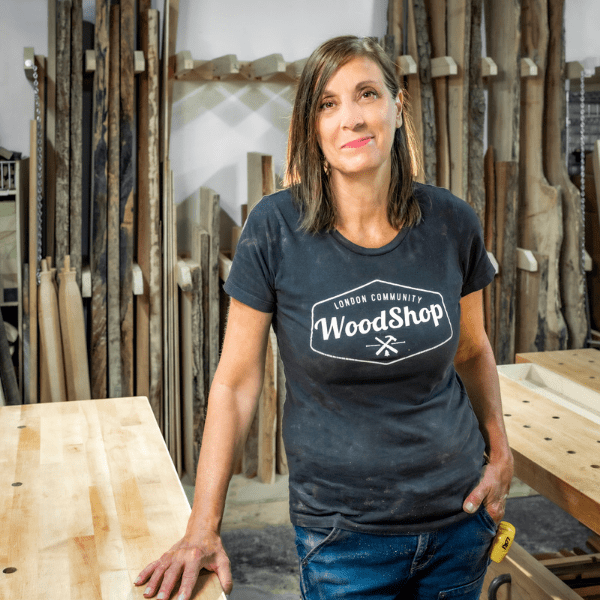 Facilitator: Lori Joseph
While attending the Woodstock Woodshow, Lori was introduced to the Conestoga College Woodworking Course. After completing the 3 year Woodworking Technology Co-op Program at Conestoga College, Lori worked in the commercial millwork industry, taking on roles as estimator, project manager and operations manager, as well as teaching Woodworking part-time at Fanshawe College and Lee Valley.
Working at the London Community Woodshop is definitely my dream job and beyond my imagination at the beginning of my journey. It is a place where people love creating and sharing with one another and where magic happens every day! From the beginning, woodworking has made a positive difference in my life and I thoroughly enjoy helping others have a similar experience. I am grateful each day I come into the shop.